1) Last night, my two best friends and I had a
much-needed
girls night, and stayed up till after 3 am talking about life and boys and school and summer and everything in general. It was awesome and I really do miss them when I'm away at school. I also miss the sleep I didn't get last night! (Thanks L & K - see, I'm including you in my posts!)
2) I randomly got really swollen lips this week, and looked like an Angelina Jolie wannabe on Sunday night. I didn't even go to work on Monday because I was convinced I looked like Octo-Mom! (yikes!)
3) Tell me how badly you want to be
right here
right now, because I'm totally with ya! Who's in? And while you're at it, check out all
my new posts
on Pinterest. Like
this awesome ring
, or
these amazing cupcakes
, or this
yummy sight
. Do it!
4) I haven't run all week, and I've managed to get every illness possible over the last two weeks (seriously, now I have a runny nose!), but I am determined to go for a run today. After I go home and take a nap, of course!
5) I recently registered for a year of GoDaddy hosting, and am excited (read: so freaking scared) to take the plunge into self-hosting. So that being said, if you know any graphic designers who can design (and preferably install) my blog on wordpress.org for cheap, I'd love recommendations! I don't want to break the bank with my blog, but I definitely need a good job done!
P.S. Bonus! 6) Is anyone as obsessed with Georges Chakra as I am? Seriously, his Spring collection is to die for! Like
Kelly Rowland's dress
at the Grammy's? Maybe it's just Lebanese pride, but he is fantastic!
Linking up with Lauren today for #H54F.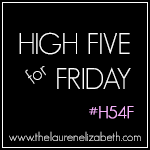 Happy Friday everyone! It's one of those weeks where I literally wanna shout TGIF!